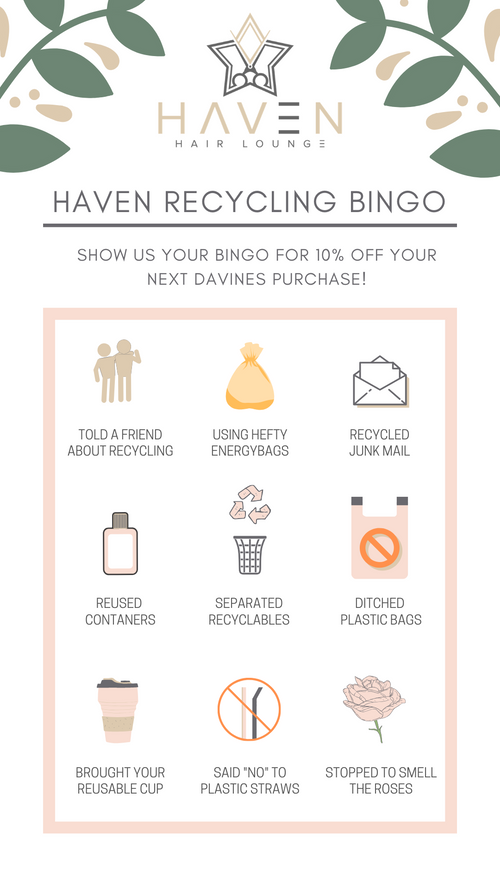 Play Along & Save!
Team Haven made a commitment to sustainable beauty, and implemented an in-salon recycling program that reduces our contributions to the landfill.
We reduced our single use products such as plastic cups, paper towels, cotton rounds, fabric softener sheets, and plastic coffee pods.
We reuse products as often as possible, switching to laundered hand towels, wool ball fabric softener, as well as using our cardboard shipment boxes as unique packaging for our SUPER CUTE hair clip and scrunchie accessories.
We recycle our aluminum haircolor tubes, the aluminum foil used for highlights, and all paper, plastic and cardboard. Thanks to Boise's Hefty orange EnergyBag program, no plastic goes unrecycled at Haven.
Haven has partnered with Davines as our exclusive haircare and styling product line. Davines has set an example to the hairdressing industry, on leaving the slightest of footprint in the name of beauty, and Haven has taken the directive to create beautiful sustainable looks, with the least amount of environmental impact.
LED lighting, programable heating & air controls, and energy/water saving appliances round out our effort to be good stewards of our environment.
Learn how you can help, by asking your stylist how we at Haven Hair Lounge REDUCE, REUSE, and RECYCLE.